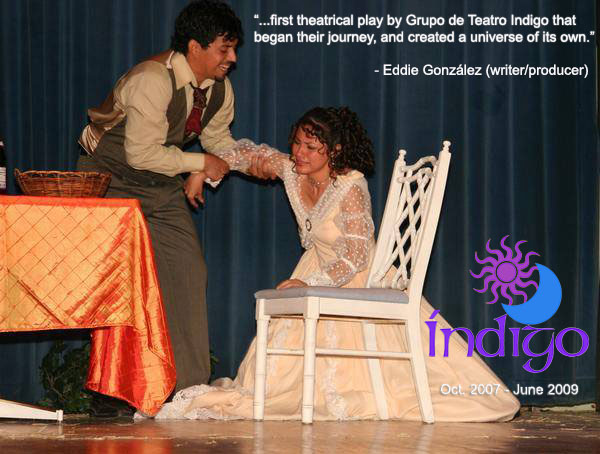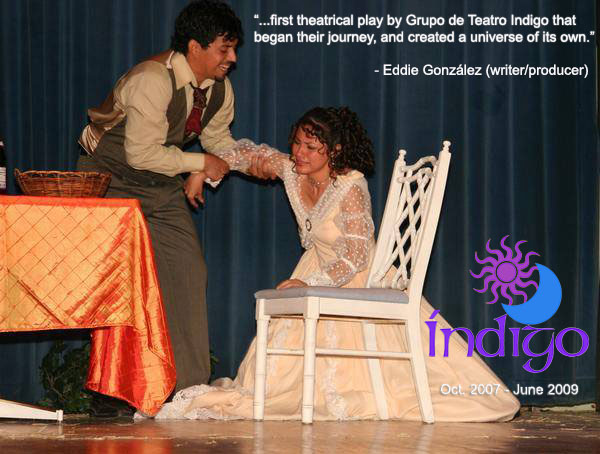 Índigo – October 2007 – June 2009
About the Play:
"Indigo" is one of the first pieces that Eddie González (writer, co-founder, and producer) wrote, with the mission to raise funds to the non-profit Catholic organization, Encuentros de Promoción Juvenil. Opening night in 2007 was a hit for this staging, and by popular demand it returned the following two years, making a tour around different parishes in Houston, TX.
The story is nowhere from being religious, however, it brought issues of discrimination and racism that are exposed towards different ethnic groups. It's a fictitious tale in the made up town, Enigma Clareza, during the year 1845, when Mexico still wanted to claim the land known as Texas. As the U.S. is moving in, the locals in Enigma have a thing in mind; defend their little town. Unfortunately, the civilian's pride and thirst for power create a war within themselves that might end their rights to the land before the US takes over. In between all this chaos, two European immigrants are torn apart by the Mayor's orders– aiding by faith and love that might be dead gone.
Presented:
| | | |
| --- | --- | --- |
| 2007 | St. Dominic Center | |
| 2008 | St. Dominic Center | |
| 2008 | St. Leo Magno | |
| 2009 | St. Ambrose | |
Stage Play written by: Eddie González
Our Rating: PG-13
Recommended for 13+ for some language and minor violence.